I read an article online recently about a couple that needed to fly their cats cross-country. The author is mainly a pop culture writer, not a cat expert. But she's clearly a loving cat companion who wanted to do her best to make the plane trip comfortable for her feline family. As a seasoned traveler (I fly with my human several times a year), I could see that she made some errors in the process. While none of them were horrendous, avoiding them would have made the trip more pleasant for her cats Lily and Zelda. So I am going to address these issues in today's post. If you would like to see my advice about the basics of flying with your cat, you can find it here.
1. Don't worry so much about acclimating your cat to the carrier. Make a greater effort to get your cat adjusted to a harness and leash. Your cat has been in a carrier before. She knows the deal (although she may not like it). But your cat probably doesn't know about wearing a harness and leash. And that is a must to go through TSA. I actually enjoy TSA because of all the attention I get, but most cats will be terrified. So a well-fitting harness and leash is a must because you will have to take your cat out of the carrier and carry her through security in your arms. The carrier, meanwhile, will go through the X-Ray machine. The possibility of your cat jumping out of your arms and running off in a panic is very real if you aren't prepared.
So weeks in advance, start letting your cat get familiar with the harness. First let her sniff it without putting it on her. Give her rewards. Once she knows it, and that she gets rewards for its very presence, you can start draping it on her. Give more rewards. Eventually start fastening it on her — rewarding her all the way. She will need to have the harness strapped on securely — you should just be able to fit a couple fingers through the neck and body strap.
Once she is used to the harness, you can snap the leash on and let her wander around for a bit, dragging the leash behind her. Unless you've decided you want to teach your cat to actually walk on the leash, you don't need to do anything more. Just get the both of you used to fastening and unfastening the leash from the harness. You won't be putting the leash on your cat's harness until you get to the airport. Then, once you're through TSA and you put her back in the carrier, you'll unhook it. Leaving the leash on while she's in the carrier during the ride to the airport and the flight risks her getting tangled up and possibly injuring herself.
One warning: occasionally, airport TSA will make you take off the cat's harness and leash when you go through security. This has happened, for example, to friends flying out of the Atlanta airport. If they want you to do that, see if you can get a private room for the security check. Sometimes they will accommodate you, and unfortunately, sometimes they won't. If you get one of the grouchy TSA employees who won't give you a break, you'll just have to do the best you can.
2. Do desensitize your cat to the carrier. Yes, I'm backtracking on what I said above, but I wanted to fit in the part about the harness first, since so few people think about preparing their cats to wear them. Unless you already have a carrier that's the proper size for airline travel, you will have to buy a new one. And actually, buying a new one is not a bad idea if all your cat has ever done is travel to and from the vet in her current carrier. A new carrier will be something novel, and won't be associated with unpleasant experiences. Well, until you put her in it to take her to the airport.
Find out ahead of time what the pet carrier measurement restrictions are for your airline. They are pretty similar for each one, but there are little differences. You should make sure your carrier works for your flight. The carrier will need to be able to fit underneath the seat in front of you, and your cat will have to stay there for the duration of the flight.
If you have bought a new carrier, treat it like a combination cat bed and reward spot in the time leading up to your trip. Leave it out and open all the time. Give your cat treats in the carrier. Play games around and in it. Make it a happy place. The mistake the author in the story made was just sticking her cats in their carriers for half an hour periodically. That's no fun! Even I would hate that. Make your cat's experience of the carrier pleasant. If you are going to shut her in it, start off zipping it and unzipping it quickly, and reward her for going through that. I actually don't think you need to zip it up on your cat at all until you are ready to leave.
One thing you may want to buy are some pee pads for the bottom of the carrier, in case your cat has an accident. There are some sturdy ones made specifically for travel, and you will want to buy the smallest size. You may want to start inserting them during the acclimation process so you don't surprise your cat with something new and strange at the last minute. Also bring a towel or wrap to throw over your cat's carrier at the airport. She will appreciate the privacy and lessened noise.
Pro tip: an hour or less before you leave, put your cat in the litter box and see if she will relieve herself before you go. My human does this with me every time we go anywhere, even if it's just to the pet store. I even have a blog post about that.
3. Don't drug your cat for the flight. The author got some sedatives for her cats from her veterinarian, and that didn't work out so well. The vet warned her that if the cat is agitated, the sedatives may actually make her more upset and not calmer… and that's what happened. Also your cat could have an even worse reaction to the sedative that turns into a medical emergency. Skip the sedatives unless your cat is semi-feral, then work with your veterinarian on a plan to keep the kitty calm.
4. Don't worry too much about your cat meowing on the plane. Actually meowing during ascent and descent is a good thing for your cat, since it helps relieve ear pressure. But unless your cat is howling, which is unlikely, she won't disturb the other people in the cabin. There is a lot of ambient noise that will drown out quiet meows and muffle louder meowing. I talk while I'm under the seat sometimes, but the only person who ever seems to hear me is my human. At the end of the flight when she pulls me out of the carrier for a quick hug, people are usually surprised to see me. If they heard me at all, they thought either it was their imagination, or that it was a baby crying. In fact, babies are actually much louder on an airplane than most cats.
5. As the human, it's your job to stay as calm as possible. This may be the most important advice I have for you. We cats are extremely sensitive and in tune with our humans' emotions, and if they are stressed out, we are. So while you are acclimating your cat to wearing a harness and getting her used to a new carrier, you should also be doing things to keep yourself calm. Maybe take up meditation a few minutes a day, or teach yourself some deep breathing exercises. (There are apps for that!) Or maybe you're the one who needs a sedative! The calmer you can be about the whole process, the easier it will be for your cat.
I think one of the reasons I go through TSA so easily is that it does not stress out my human, as long as she has given herself enough time to get to the gate. And she is pretty good about that. She makes air travel as pleasant an experience as possible for me, and seems to handle it all pretty well. I will confess, however, I've seen her breathe a huge sigh of relief once we reach our destination!
I hope my tips have helped you!
Disclosure: the link to the pee pads is an Amazon affiliate link, and I will get a small commission if you click through and make a purchase.
* * *
---
---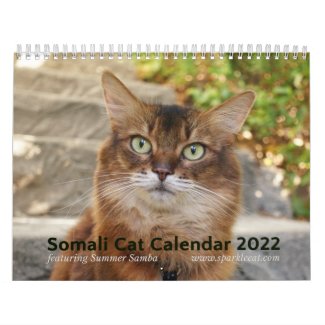 2022 Somali Cat Calendar Starring Summer Samba
See all of Summer's merch at her
her Zazzle Designercat Shop