Sparkle was a very wise cat, and I'm constantly in awe of everything she accomplished during her years as a blogger and an author. But while there is a lot I still have to learn, and I refer to her notes frequently, there are other areas in which I've had to figure out my own way of doing things. And there are some things I had to completely learn on my own. Here are five of them.
1. How to walk on a leash and harness! Most of the time I think it is pretty fun.
2. That if I sit and stay, I can get treats. I also get treats for high fives. Sparkle got treats for no reason, but I think this is a cool game.
3. That hotel rooms are all kinds of cool! I don't think Sparkle ever got to stay in a hotel room. I bet she would have liked it. Okay, maybe not.
4. How to compete in cat shows! It is a good thing my breeder has been giving me and my human guidance, otherwise we would both be clueless.
5. That Binga can be a good pal and playmate when she wants to be.
* * *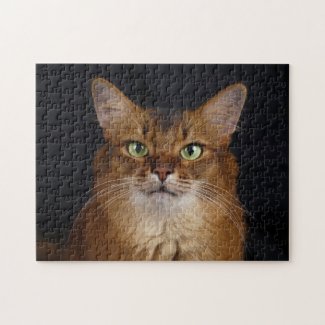 Somali Cat Photo Portrait Jigsaw Puzzle
See all of Summer's merch at her
her Zazzle Designercat Shop