As I mentioned when I first announced the upcoming Cat World Domination Day (also my birthday), we cats have already achieved World Domination. But that does not mean that we have mastered everything that comes with dominating the world. There is always room for improvement, and in that spirit, here are a few tips to help you rule over your human more effectively:
Utilize the human knack for imagination when you want attention. Go somewhere you can't be seen and make an unidentifiable noise. This highly effective technique makes your human's imagination run wild and they will come running! It is also incredibly easy, taking almost no effort on the cat's part.
Always remember that humans are verbal creatures, so you will have to mimic their form of conversation. We cats have more sophisticated ways of communicating with each other — the twitch of an ear speaks volumes — but most of our subtle movements are lost on humans. They expect you to "talk" to them, so meow away. I know it seems stupid, but look at what you are dealing with.
When you need to draw attention away from something humans might see in a negative light (a random act of destruction, for example), just roll over on your back. Nobody knows why humans are so enchanted by this, but it works like a charm and helps to keep peace in your kingdom.
Humans really, really don't get bugs and small prey. If you are trying to make a point (they are not eating enough protein, you are unhappy with your current menu, etc.), it is useless to give them some creature you have caught. They will always misinterpret your behavior. If you are mainly doing it to get an amusing reaction out of them, however, go for it!
Persistence, persistence, persistence. This is one of our best qualities, and it is one that humans often lack. If you really want something, keep working on it. You will wear down your human eventually.
June 24, Cat World Domination Day is just around the corner! Remember to pick up your official Cat World Domination Day badge!
* * *
---
---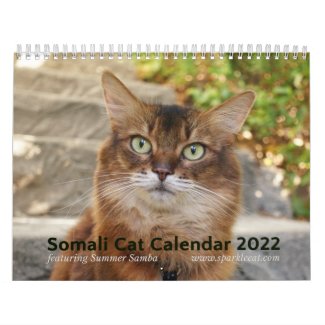 2022 Somali Cat Calendar Starring Summer Samba
See all of Summer's merch at her
her Zazzle Designercat Shop