My human has always wondered if those online petitions really work, even though she does sign them now and again. Quite a while back she added her signature to a petition created by the Anaheim Fix Project, managed by OC Community Cats. The City of Anaheim had enacted a law that outlawed the feeding of community and feral cats instead of embracing Trap-Neuter-Return.
It's always upsetting when a city does something that's bad for cats. But what was even worse in this case is that Anaheim is home to Disneyland, which in turn is home to about 200 feral cats. Cats have lived at Disneyland probably before it was even opened in 1955. Designated employees care for the cats. They are neutered and spayed, and any cats that are friendly, or kittens that are born, are adopted out. Anaheim's new law made it illegal for the Magic Kingdom to feed the cats they had cared for over many decades. That's in addition to all the other community cats throughout Anaheim.
Well, guess what? Over 70,000 people signed the petition! The plight of the feral cats of Anaheim also caught the media's attention. Hundreds of local cat lovers banded together, with the Anaheim Fix Project leading the fight. And they won! Instead of the feeding ban, Anaheim asked the organization to partner with them to create humane community cat policies. Instead of threatening people who feed ferals and strays, and killing the cats, the Anaheim Fix Project steps in to spay and neuter the cats, and find ways to help both the cats and the community. This new program is already proving to be successful, and may set a standard for other communities.
* * *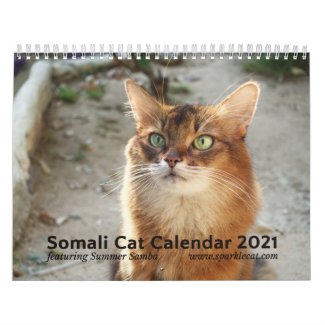 2021 Somali Cat Wall Calendar, Starring Summer
See all of Summer's merch at her
her Zazzle Designercat Shop