Boodie! What are you doing!
How come I am the only cat around here with a sense of dignity? I have an important giveaway today and I am already embarrassed.
Fancy Feast has come out with new Delights With Cheddar Entrees in four flavors, each one with real cheddar: Salmon and Cheddar Cheese Feast, Turkey and Cheddar Cheese Feast, Beef and Cheddar Cheese Feast, and Chicken and Cheddar Cheese Feast! As you can see, Boodie is excited about these new entrees.
They sent us a can of each flavor, packed on a cool wooden cheeseboard with the Fancy Feast logo!
Plus a card about the new Entrees, perfect for chewing on! My human says it was not meant for that use, but I think she is lying.
And I have something really fun for you! The Fancy Feast humans said I could do a giveaway on my blog! In fact, they said I could give away 20 Fancy Feast Delights with Cheddar samplers like the one I got, with the four new entrees and the cheese board! Sadly, they said it was only for my U.S. readers, but you know I will do something for you international kitties and humans at some point… maybe even sooner than you think!
Use the Rafflecopter widget below to enter. Ends Sunday, August 11 at 11:59 PM Pacific Time. I will announce winners next week!
If you are on Pinterest, you also have a chance to win one of three trips for two (humans) to New York City to attend a Cheese Soiree and cooking class with Liz Thorpe! Enter the Fancy Feast "Cheese Affair Pin to Win" Sweepstakes on Pinterest — go to www.cheeseaffair.com for details. The sweepstakes closes on August 11.
* * *
---
---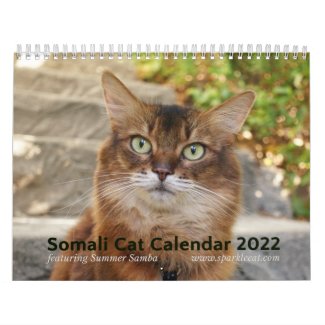 2022 Somali Cat Calendar Starring Summer Samba
See all of Summer's merch at her
her Zazzle Designercat Shop