Many of you already know that Facebook doesn't really want Pages set up by businesses, celebrities and, um, cats just popping up in your newsfeed. Even though you Liked the Page and probably want to keep up with what is going on with whatever the Page is about. Over the years, they have switched up their algorithm (basically, the way a website crunches numbers and viewers) so that Pages show up in your feed less and less. Now Facebook is putting the screws on Pages even further.
Of course, Pages will still be seen on your timeline… for a price. This is understandable. Facebook is a big business and if a brand with products or services has a Page, it's reasonable to ask them to cough up some advertising money. But the problem with this is that other Pages you do want to see — fun and sometimes informative Pages like mine, or Pages from non-profits, like rescue groups, will get left in the dust with this change. It's really sad.
I'm not a brand that has a marketing budget. In fact, there is no monetary incentive for me to advertise on Facebook at all. My human has tried a couple of times, when I have been selling my calendar, or for the books she releases as a publisher, and it's pretty much just throwing money into the litter box. She lost a few dollars when she advertised my calendar last year (I think I made one or two sales I wouldn't have otherwise), and with books, she lost 100% of the advertising budget she spent. Fortunately, she did not spend much.
That's not to say that advertising never works. It does, if you target the right places. My human buys ads on Amazon for the Rescued books, and they have worked out very well for her. And maybe there is a method to make ads on Facebook profitable for books, but she hasn't cracked the code on that.
But there is little reason for me to advertise my blog posts. Most of them are just for fun, or to offer information. I'm not selling anything in particular on 95% of my posts. And when I am doing something like posting affiliate links, I only make maybe $10 in commission total, so it's not worth it to advertise. I really just want my blog posts to get out there to people who might like them. And it's becoming increasingly clear that Facebook is really no longer the place for that.
The only problem is that I currently am getting a large percentage of my traffic from Facebook — traffic that will likely go away if and when Facebook changes how you see Pages. My human checks the stats on my blog several times a day, and it really bums her out when she sees something like this, which happens all too often:
I really want you guys to keep seeing me! I know you wouldn't be here unless you wanted to be, and I'm grateful for that. And I try to keep you coming back with posts I think you will enjoy. So I have some ways you can keep seeing me, both with and without Facebook. I hope you decide to use some of them, if you aren't already!
1. Comment on and share my Facebook posts. The reactions (Likes, Loves, and the other little avatars) are good, but commenting and sharing too are even better. That shows Facebook you want to see more of me, and makes me look good when the algorithm crunches numbers. If I only post a photo, with the blog post in the comments, please just like and/or comment on the Facebook photo, and then share the blog post itself instead (you can click the Facebook icon at the bottom of the blog post) — your friends won't see the link otherwise. Also tell your friends why you like the post so they know! I especially appreciate it when you share a post of mine you really happen to like — it indicates I am doing something right if you think other friends of yours will enjoy it too.
2. Mark my page as "See First" on Facebook. Go to my Facebook page — there is a dropdown menu under Following, and you can mark my page as "See First" there. You can do that for up to 30 Pages. Here is a screenshot of how it looks below.
If you are on mobile, click on Following, like you see below on my therapy group's page:
Then you click on the See First image:
You can also go to Edit Notifications Settings to further edit what you see.
I will say, there is some controversy around this option — some people say it doesn't always work, or that Facebook will change the way it works. My human says that the pages she marks as See First, she does see first.
3. Subscribe to me by email. You don't have to just rely on Facebook to see me. I have several ways of reaching you by email. If you want to see my posts regularly, I send a digest every Tuesday of all my posts from the past week. You can subscribe either on my blog's sidebar where it says "Get Summer's Weekly Blog Post Updates!" or with this link: http://eepurl.com/dchZ59. If you want to see my posts daily, you can use Feedburner. Go to this link and click on the blue "Get SparkleCat delivered by email" in the upper right hand corner: http://feeds.feedburner.com/SparkleTheDesignerCat
Lately, Feedburner has been a little unpredictable, which is why I have the weekly email of my own.
My monthly (and additional email blast) newsletter is here: http://eepurl.com/63slL, and also in my blog sidebar. That's if you just want the highlights. I also include a mini editorial exclusive to the newsletter, and sometimes I have a giveaway, or a giveaway add-on that is specific to this list.
4. Follow me on other social media or blog following service. The icons for my other social media accounts are on the top of the sidebar on your right. I post my blogs every day on Pinterest and Twitter. In fact, I'm working hard to make my Pinterest page a lot better, and if you are on Pinterest, I think you will like following me there! If you follow a lot of blogs you can use a service like Feedly or Bloglovin' — just do a search using the URL of my homepage, and I should come up.
I think that is it! I hope that with all the changes going on with Facebook, we will still be in touch.
* * *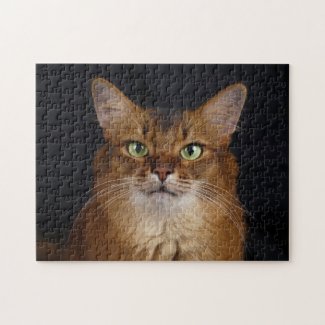 Somali Cat Photo Portrait Jigsaw Puzzle
See all of Summer's merch at her
her Zazzle Designercat Shop