I mentioned a couple of days ago that if I could get some photos I would tell you about Donkey, the kitty whose humans just got married. I got permission to snag some pictures from the male human's Facebook, so here is the story. It begins at the house we lived in before this one:
That old house was just a block and a half away from some place my human loves called Trader Joe's. Since it was so close, she could just walk there instead of driving. One early evening, she stopped by to get some groceries and there was a nice woman out front with a box full of kittens. They were the most amazing kittens ever — so calm and tame. My human picked up a docile little tortoiseshell and looked very sternly at the human who was trying to find homes for them.
"You can't just give them away like this!" she told her.
"Why not?" asked the lady, who was as naive as she was nice.
"Do you realize what happens to free kittens?" my human asked. "They might get used for bait in a dog fight. They might wind up as a meal for a snake. Some family may take home a kitten like this, but never get her spayed and then toss her away when she gets pregnant. Kitties are a treasure, and when you give them away for free, the people that take them often don't put any value on them."
Other Trader Joe's shoppers chimed in and agreed with my human. The lady looked perplexed. She certainly didn't want anything bad happening to the kittens, but she couldn't keep them either.
"There's a cat rescue in the mini mall on the other side of Trader Joe's," my human said as she handed the tortie kitty back to the lady. "They are still open right now. Please go over there and see if they will take the kittens. I think they will."
My human got the couple of things she needed and walked home. As she passed the mini mall, she saw the lady going into the cat rescue.
That weekend, a drummer who was good friends with my human and her boyfriend took his daughter to adopt a kitten. He had grown up near my human's house, so he knew about the cat rescue, and that's where they went. When they brought the kitten home, Pat posted the photo of her on his MySpace page (because that's where people went before Facebook). My human saw the little tortie kitty and was positive it was the very same kitty she had held outside of Trader Joe's! I don't know what happened to the other kittens, and neither does my human, but we do know that this kitty, who got named Donkey, has the best home ever. Pat even lets her have control of the remote.
All photos property of Pat Muzingo. Used with permission.
* * *
---
---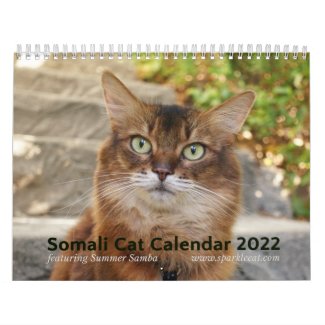 2022 Somali Cat Calendar Starring Summer Samba
See all of Summer's merch at her
her Zazzle Designercat Shop