I am a pacifist kitty. I have never believed in whapping or being mean to get my way. If a kitty wants something, all she needs to do is be sweet and act cute and usually she will get it. And those times where you don't, you just plot to get it when nobody is watching. But you almost never have to use claws or teeth. In fact, I think getting upset and fighting is less likely to get you what you want! That is why I am so happy to be joining the Blog Blast for Peace for the first time this year.
I have proof that my philosophy works. When I first came to live here, Binga and Boodie both hissed at me, and Binga tried to whap me a bunch of times. But I never, ever tried to whap her back. And the couple of times she did manage to hit me, I discovered something very surprising: she never had her claws out! Since she wasn't really trying to hurt me, I just let her hit me and did not react. Eventually, she realized that she was not getting the reaction she wanted, or any reaction at all. She also realized that I was just a kitten who wanted to have fun and did not threaten her in any way, so she started playing with me! Now we chase each other around the house sometimes, and she never tries to beat up on me the way she does to Boodie. In fact, she beats up Boodie a lot less than she used to, and Boodie seems happier too.
So I say peace, if it is honest and sincere and loving, always wins out. Love is greater than hate… and fun is better than being mean!
If you want to know more about peace blogging, visit here.
* * *
---
---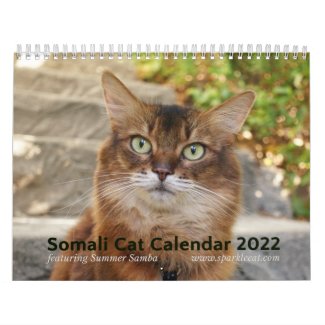 2022 Somali Cat Calendar Starring Summer Samba
See all of Summer's merch at her
her Zazzle Designercat Shop