We are in computer hell over here! My human's new MacBook Pro developed issues that currently make it unusable, and she is temporarily stuck with her old, funky MacBook with the old version of Photoshop. So she did something quick with an older photo of me:
Really, it was quick! What she did was Google, "How to make a photo look like a watercolor painting in Photoshop CS5" — and she found this video! The tutorial is a little over a minute long, uses several layers and no real fancy stuff. But it is a pretty cool effect for something so quick, and more custom than just one photo filter or something from a phone app. She used a stock vector frame and she was done!
For more Caturday Art, visit Athena!
* * *
---
---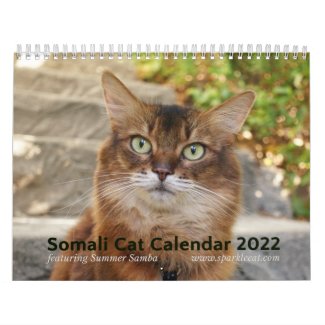 2022 Somali Cat Calendar Starring Summer Samba
See all of Summer's merch at her
her Zazzle Designercat Shop