Okay, so this photo does not look like my human was messing around, but she basically was:
This was the original:
This photo is a couple of years old and she has always liked it, so she decided to do something arty with it… but she wasn't sure what. After playing around with various effects in Photoshop and discarding them, she wound up using an "Orton" effect she found on this page of Photoshop hacks. That was one layer. Next she duplicated the photo and did her classic technique to create a sketch effect: increased the sharpening to bring out all the details until they look like a drawing, then converted the image to black and white. After brightening the black and white layer, she put the two copies together with the color layer on top and switched its Blend Mode to Multiply, then lowered the opacity.
Confused yet? Anyhow, that's how she did it. She didn't save all the steps as she had no idea what she wanted and kept backtracking so I couldn't post a tutorial.
For more Caturday Art, go here!
* * *
---
---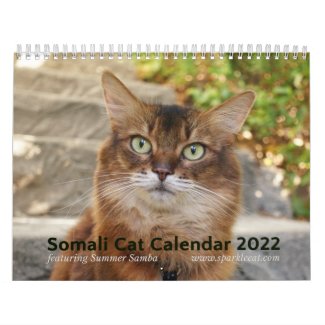 2022 Somali Cat Calendar Starring Summer Samba
See all of Summer's merch at her
her Zazzle Designercat Shop