When my human first got her Instagram account, she went crazy with downloading iPhone photo apps and adding all sorts of filters to her photos. These days, she's calmed down a bit and has gone back to Rule One of digital photo art (note – this is a rule she made up): there has to be a purpose behind the effect. Does this effect do something that adds interest to the image? Is it evoking an emotion from the viewer? Is it enhancing this photo in any way? And if not, then why use it? So she scrolled through her iPhone photos to find one of me that she thought might do well with extra added effects.
Here is the one she picked, completely unretouched, with eye booger and chin acne included:
The first thing my human did with the photo was use the Snapseed app to crop it to a 1:1 ratio (square) and make minor adjustments to contrast and ambiance. Sadly, she could not remove the eye booger — she had to do that in Photoshop after she added the effects. That's not to say that there aren't retouching apps that can do that — she just hasn't looked into it yet. She is very serious about her apps and it takes her a while to pick out the ones she thinks are the best.
After she adjusted the photo in Snapseed, she randomly picked the Sketch Guru app and added a "gouache" filter. Right away, she was pleased with the effect, and even though she tried some others, it was the only one she was happy with for this particular photo:
Next she took the same adjusted photo and opened it up in the Picfx app. The cool thing about this app is that you can easily adjust the effects and layer them on top of each other. Of course, my human didn't do any of that. She just added an effect called "Paint Peel" and decided it didn't need anything more! Paint Peel is one of those effects that just stands on its own. It's really strong and doing too many other things to the image would be overkill:
Now for the last filter. You might remember that the first time I joined this blog hop, it was with a sketch app. My human decided to revisit that effect with this photo, using the first sketch app she ever downloaded. It's called… wait for it… Sketch! Out of the sketch apps she has used so far, it creates the most realistic looking sketch effects. The only problem is that if you want to use one of their colored backgrounds, like a parchment paper or a lined paper, it doesn't look realistic. So my human just used a white background and took it into Photoshop, where she created a simple ivory canvas texture and put the image on top of that. Then she changed the blend mode of the layer with the sketch image on it to "Multiply," and that made all the white parts transparent. She also touched up some of the edges of the sketch to make them look better and, thankfully, removed the eye booger:
One note about using these apps — when you are done and you are uploading the photos from your smart phone or emailing them to yourself, use the largest size possible! That will help you retain the best quality, and if you want to do something more with the photo than just post it on the internet, like print it out or put it on a mug or something, it will look much better!
Visit Athena for more Caturday Art!
* * *
---
---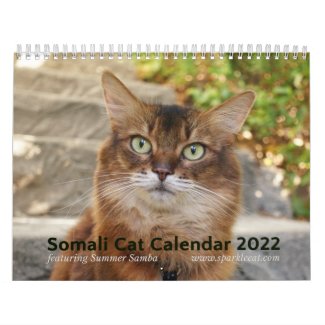 2022 Somali Cat Calendar Starring Summer Samba
See all of Summer's merch at her
her Zazzle Designercat Shop