No, that is not a typo! It is true that cats rule the world, but we also rule the word… at least words of the English variety! Do you realize how many English words have CAT in them? There are thousands! It's yet another subtle way in which we kitties use our powers of domination. I'm surprised that Sparkle never made mention of this.
For fun, here are just a few words containing CAT — and why we happen to be in them.
AdvoCATe — we do have a lot of humans on our side, after all!
CATch — because we are so good at hunting!
CATering — because, well, food!
DediCATed — because we inspire devotion in humans.
DeliCATe — because we do at least give the appearance of being so.
DupliCATe — because two cats are nearly always better than one.
EduCATion — because kitties all have valuable lessons to offer.
EvoCATive — which is why creative humans adore us.
IntriCATe — because cats are complex beings.
LoCATion — because cats are everywhere, watching humans' every move!
ProvoCATeur — because we are mysterious little troublemakers, aren't we?
ReciproCATe — because we give as good as we get!
VaCATion — because kitties know how to take it easy.
VindiCATe — because kitties are always innocent!
I bet you can think up a lot more! So just raise your paw, and then leave your word, and why CAT is in it, in a comment below!
* * *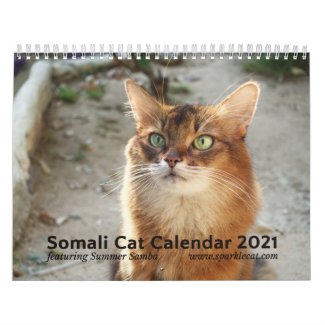 2021 Somali Cat Wall Calendar, Starring Summer
See all of Summer's merch at her
her Zazzle Designercat Shop