When it was discovered that a 13-year-old Iowa cat had contracted H1N1 from its flu-infected family, it sent chills down feline spines all over the world. For the most part, we seem to be immune to communicable human diseases — now, are we going to have to worry about our humans putting germy hands all over us — and our food?
Thankfully, pet expert Steve Dale has posted a blog with the basic facts about swine flu and cats as they are known right now. You should look it over for the full story, but I'll address some of the more important items here:
It was the humans who infected the cat, not vice versa. So if your human is showing signs of the flu — coughing, fever, sore throat, aches — it might be best to send healing purrs from a distance. And if they cough over your food, don't eat it.
Humans who get the flu don't have to put masks on their cat. That's a relief considering that Halloween has only been over for a few days and most cats are still getting over the trauma of the holiday.
Cats who are sneezy, or have runny noses probably have an upper respiratory infection, not H1N1. In any case, cats showing any signs of illness or "not feeling right" should go to the vet. I know you kitties are bummed about that, but it can't be helped.
So far, only a cat and two ferrets have contracted swine flu, and no dogs (giving new meaning to the term "lucky dog"). If any more pets come down with H1N1, it will be reported at this link from the American Veterinary Medical Association.
* * *
---
---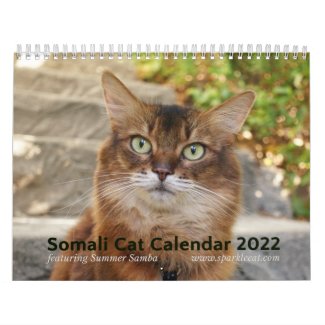 2022 Somali Cat Calendar Starring Summer Samba
See all of Summer's merch at her
her Zazzle Designercat Shop