Happy Cat World Domination Day! Today we cats have fun celebrating our world domination with a fun party! This year, I've put together a casino for you!
Welcome to the Lucky Cat Casino!
Take a chance at the roulette wheel!
I've also got a blackjack table. I hope you've brushed up on your skills!
And if you prefer slot machines I also have a couple of one-armed bandits for you!
I know you will work up an appetite with all this gambling (or cheering on your friends while they lay down their chips). So I have a Las Vegas style buffet for you!
I have lots of choices! From a catnip salad to Caesar salad, protein pasta, chicken tenders, and Waldorf salad. My human actually insisted on the latter. Don't ask.
I'm ready to dig in! Be polite, like me — take your hat off while you are eating.
And remember to grab a catnip sour. We'll be serving these all night, and you can have as many as you want since cats don't drive anyhow.
Now that we've eaten and enjoyed some gambling, it's time for the giveaway! Let me show you the prizes we've gathered.
Like last year, Covid limited our ability to put together an awesome prize package, but I think my human found some cool things for you!
As you can see, it's a variety of fun cat toys, and some things for the humans. And as always, I'm using the Rafflecopter widget. To enter, all you need to do is leave a comment below, and then say you did on the widget! After that, you will get more opportunities to increase your entries, and chances of winning. And since the prizes are small in size, the giveaway is worldwide where ever allowed! It ends at midnight, Monday, July 5.
So happy Cat World Domination Day 2021! I hope you enjoyed my casino party, and good luck with the giveaway!
Other posts you'll enjoy:
* * *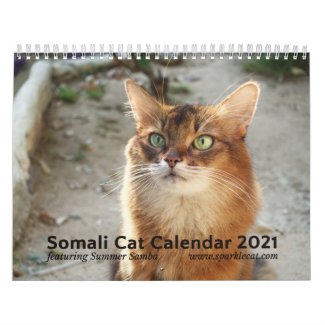 2021 Somali Cat Wall Calendar, Starring Summer
See all of Summer's merch at her
her Zazzle Designercat Shop