When you're a kitty, you notice there are certain things about you that humans find completely irresistable! It's crazy, and after a while, predictable. So I thought I'd show you some of the cat things specific to me that are instant human magnets.
My Head Tilt
This is practically a secret weapon, it's such a powerful human magnet. I'm just showing a modest head tilt here. The more I tilt my head, the crazier humans get.
My Tufty Toes
Whether it's on the blog or in person, people are always commenting favorably on my tufty toes! I gather it's one of the more irresistable things about me.
My Happy Paws
When I'm making happy paws standing up, it almost looks like I'm dancing! When I combine them with a head tilt, humans really get excited. Plus my tufty toes make it a double (triple?) win! I also do them lying down, like you see here.
My Tufty Ears
Truth be told, I don't have the tuftiest ears. Maine Coons tend to have the best ones. But people still comment on mine.
My Fluffy Pantaloons
Why do you think my human takes so many photos of me from behind? 'Nuff said.
Waving Bye-Bye
Humans always enjoy my tricks — especially when I give them their own high fives! But they always melt when I wave bye-bye. Which is funny, because I'm not all that good at it.
What kitty magnets do your cats have? 'Cause we all have them! Let me know in the comments.
Other posts you'll enjoy:
* * *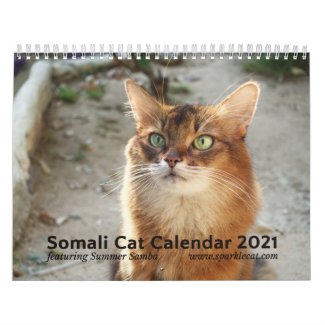 2021 Somali Cat Wall Calendar, Starring Summer
See all of Summer's merch at her
her Zazzle Designercat Shop