Usually I try to post fun things on Caturday. But there is something going on in the past few days that I really need to tell you about.
I'm sure many of you are following the story of the Cat Man of Aleppo, but for those who aren't, or who only know a little, here are the basics. Mohammad Alaa Aljaleel is a Syrian living in the war-torn city of Aleppo. Up until the bombing started, Alaa was an electrician. Then he started driving an ambulance. As people fled the city, many of them left their cats behind and this kind and caring man became the caretaker for these homeless creatures. The sanctuary that resulted grew to over 100 cats, and Alaa even built a playground next door so children could play and visit with the cats.
All that changed this week.
On November 16, there was an airstrike. Bombs rained down on Aleppo and some struck the sanctuary. The canine mascot, Hope, was killed, along with two cats, including one entrusted to Alaa by a little girl who fled to Turkey with her family. Several other cats were badly injured. To make things even worse, there was another attack yesterday with chlorine, and now all the sanctuary animals need to be moved completely.
Thousands of people have been killed in Syria, and Aleppo is being reduced to rubble. The same airstrike that hit the sanctuary also hit a children's hospital and a blood bank, resulting in the deaths of 32 people. In war, everybody suffers, but it's worse when you hear about the innocent — children and animals — becoming victims of these battles. It makes my heart hurt to hear about all this, and I'm sure yours too.
If you would like to help Alaa as he works to get the sanctuary cats to safety, it's… difficult. It's impossible to send supplies to Syria, and getting money there is very hard. Alaa does have an angel in Alessandra Abidin, an Italian who is helping with the sanctuary's social media. She has ways to get him donations, but because of the war, and the area's terrorism, you have to jump through a few hoops first. One is joining the private Facebook group Alessandra has set up for the sanctuary. When she has accepted your request, you will find very strict instructions on how to get a donation through to Alaa. You will also get current news of the sanctuary.
If you aren't on Facebook, or if you can't give, do send purrs to the cats of Aleppo, and all the innocent souls who have found themselves in the middle of this horrible situation.
* * *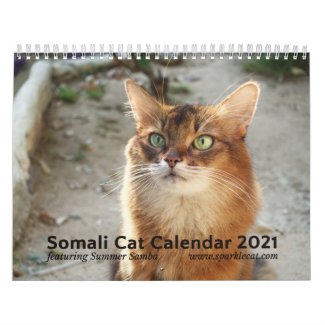 2021 Somali Cat Wall Calendar, Starring Summer
See all of Summer's merch at her
her Zazzle Designercat Shop