I did a therapy visit with the other cat in the program again yesterday. (You remember Josie, right?) Her human mentioned that after their visits, Josie crashes out for a few hours, and my human said that I didn't. She pointed at me and said, "She doesn't take any time to recharge. It's like she thrives on visiting these people. Most cats are introverts, but her? She's an extrovert!"
You know what? I don't believe that most cats are introverts. Sure, a lot of them are, but there are more of us extrovert kitties than you may think. In our household, there are two extroverts, me and Binga, to one introvert, Boodie. Sparkle, actually, was more of an introvert, so when she was around, the ratio was more in favor of introverts.
Are you an extrovert or an introvert kitty? Here are some things to consider.
Traits of Extrovert Cats
Comes out and greets visitors
Loves attention, including being the focus of attention
Enjoys being petted, by both family and strangers
Has to be part of the family goings-on
Thinks change is interesting and needs to be examined
Is a little bit ADD, and has a limited attention span
Does not mind wearing ties or fancy collars — or even clothes!
Loves to explore and is not easily startled.
Traits of Introvert Cats
Hides when company comes over or the doorbell rings
Would prefer to be ignored most of the time
Only wants to be petted by certain people, and only by their choosing
Is only part of family goings-on occasionally, and prefers quiet activities like watching TV
Is upset by change
Needs lots of time to recharge
Hates wearing anything undignified. Please, never dress an introvert kitty
Is very, very cautious about exploring anything new and is easily startled
Of course, most cats will be a mixture of extrovert and introvert traits, but I think the majority will lean more towards one than the other. Which one are you? Take the poll below and tell me all about it in the comments!
Loading ...
* * *
---
---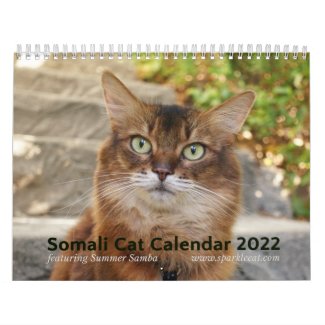 2022 Somali Cat Calendar Starring Summer Samba
See all of Summer's merch at her
her Zazzle Designercat Shop