I bet many of you know that February is National Pet Dental Health Month. But I bet not as many of you realize just how important good dental health is. And I mean for both humans and cats. My human has always been conscious of her dental health, and for a long time she had a dentist but no regular doctor. Although this is not a good habit to have, it's true that dentists can see some health issues early on by looking into your mouth. Vitamin deficiencies, disease-causing inflammation, and even bone loss show up in your mouth, teeth, and the X-rays your dentist takes during regular checkups. Good oral hygiene can lower the risk of inflammation, and that's important for both keeping your teeth and your overall wellbeing.
It's the same for cats. Poor dental health can lead to bacteria traveling from the mouth to the heart valves and kidneys, in addition to causing tooth loss, pain, and abscesses. Your cat will have a longer, happier life if you take measures to improve her oral hygiene.
(Note: some, but not all the links below are Amazon affiliate links, and we will get a small commission if you click through and make a purchase. Thanks for your support!)
My human does her best to take good care of my gums and teeth, and I wanted to share some of what she does. I hope you will be able to adapt some of it for your cat.
Toothbrushes
My human bought all these cat toothbrushes to see which ones worked the best with me. (We'll get to what she does with the cotton swab in a minute.) They are not expensive, so it was worthwhile to give several a try.
The finger brush from this set was the one I liked the best. The bristles are soft but they are still good at cleaning. And I am gentle and don't bite, so it works for my human too.
But brushing my teeth actually isn't the most important part of my routine! Following is my big dental secret.
1TDC for Oral Health & Mobility Support
I found out about these supplements from The Conscious Cat website, and my human and I can say firsthand that it works amazingly. 1TDC (not an affiliate link!) is a joint support supplement that also supports gum and teeth health if you apply it directly to your cat's gums.
It comes in these little capsules. You twist or cut off the top and squeeze the supplement directly on your cat's gums.
Or you can do what my human does and squeeze it onto a swab to rub over your cat's gums. You start off by doing this daily for the first month, then every other day after that. Most cats my age (six years) are already showing deteriorating gum and tooth health. In fact, most show it even younger. But at my vet checkup last fall, my vet was amazed by how healthy my mouth was! I didn't need a cleaning, which saved my human several hundred dollars, and a lot of stress (because cats need to be put under anesthesia for dental cleaning).
Maxiguard Oral Gel
Maxiguard Oral Gel was another discovery from The Conscious Cat. But to be honest, there are any number of pet toothpastes out there that will probably work. The important thing is to do it regularly, the same way you humans brush your teeth regularly.
You don't have to put a lot on the brush, just as much as you see here.
Tropiclean Fresh Breath Oral Care Water Additive
While the 1TDC and regular brushing are the most important part of cat dental health here, using an oral care water additive like Tropiclean Fresh Breath is a good supplement to your other oral hygiene activities. There are a lot of good water additives out there. This is just what we happen to use because my human can pick it up at the pet store. But it is in no way a replacement for the rest of the dental care.
There are a lot of inventions pet companies have come up with in an attempt to make oral care an easier task for humans and cats. But I think the best ways are what you see here (especially the 1TDC), and so far it is working well for me. I hope this helps!
Other posts you'll enjoy:
* * *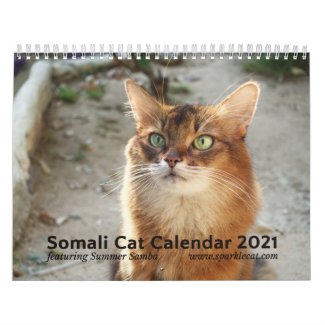 2021 Somali Cat Wall Calendar, Starring Summer
See all of Summer's merch at her
her Zazzle Designercat Shop