Kitties! Alert! Alert! Barkworld and Pruven, from 3M are offering to send a blogger to Barkworld this August for (almost) free! And I think it is very important that a KITTY wins this! After all, we kitties rule the internet and we need to be properly represented. In fact, I think this is SO important that I am making a big sacrifice by letting my human enter! This means she would be gone from August 22 through 24 and I will have to give her very specific instructions on how to represent me. So I will have a lot of work to do if she wins.
If I win this, my human will get a pass to Barkworld in Atlanta, GA, three nights at the Westin Buckhead, transportation between the hotel and airport and $350 toward airline expenses, all courtesy of Pruven, from 3M. This is over $1000 in value, and the only way my human can go to Barkworld this year is if somebody else pays for most of the expenses! So help out a kitty cause and get my human on that plane!
Today is the last day to enter — yes, it ends July 12, and they will be judging the entries by how social we can be. So below is my graphic — please grab it for yourself and share it today, on Facebook, Pinterest, Twitter, your own blog, whatever. Just get it out there right now to show how much I can rock social media!
Thanks for helping!
* * *
---
---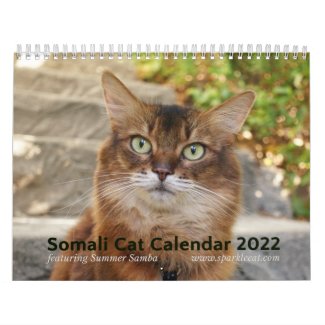 2022 Somali Cat Calendar Starring Summer Samba
See all of Summer's merch at her
her Zazzle Designercat Shop