June is Adopt A Shelter Cat Month, and since Binga was adopted from a shelter — the North Central Los Angeles Animal Services shelter — I decided to let her kick off the month by explaining why humans should adopt tortoiseshell cats. Honestly, I do not agree with all of them! But I'll let that slide because torties are less likely to be adopted than other colors, like pointed (Meezer) and orange kitties — and more often returned to shelters after being adopted. Tortoiseshell kitties need all the attention they can get (and if you don't give it to them, they will take it anyway!). So here you go….
Ten Reasons to Adopt a Shelter Tortie
You can throw out all the house rules because torties will give you new ones!
You no longer need to have an opinion on anything either, because your tortie will always have one for you!
Because of all the different colors, tortoiseshell fur goes with everything!
Tortoiseshell cats are excellent at reminding you to do important things, like feed them and play with them! (There aren't any other important things!)
Torties impart healing energy… except when they are mad. But don't worry, they are only mad for good reasons, even if you can't figure out what they are!
Tortoiseshell cats are extremely loyal, even when they are mad at you!
Tortoiseshell cats are great conversationalists, and you don't even have to say much!
Tortoiseshell cats have shorter attention spans than other cats, yet they are more stubborn and persistent! They are like a fascinating riddle!
Tortoiseshell cats are like that crazy friend you had in high school who always got you in trouble… except now she's your boss! Isn't that awesome?
You will learn that the word No does not exist.
* * *
---
---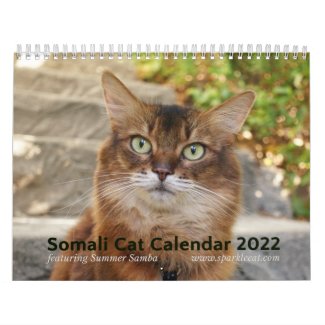 2022 Somali Cat Calendar Starring Summer Samba
See all of Summer's merch at her
her Zazzle Designercat Shop