Festivus is Binga's favorite holiday! I bet you are not surprised. But Festivus cat style is a little bit different from the Festivus most humans are familiar with. So she is going to explain it to you.
First, you need a Festivus pole. This one is not exactly like the Festivus pole you can see in the Seinfeld episode. But who cares? If it is kind of a cheap, makeshift Festivus pole, isn't that in the spirit of the season?
Next is one of the really good parts: the Airing of Grievances! If you are a tortie, you probably have an extra lot of them. You can be as loud as you want. The Airing of Grievances is one of the longer parts of Festivus.
This is one of the parts where Festivus is different for cats. We get to Mete Out Punishment after the Airing of Grievances. Make sure your punishments are good ones that will be remembered!
Here is another part of Festivus that is different for cats: the Sharing of the Festivus Catnip!
You are not supposed to hog all the Festivus Catnip, or everyone may have to go back to the Airing of Grievances.
Now comes the really good part: the Feats of Strength! That is when the tortoiseshell cat has a wrestling match. Festivus isn't officially over until someone pins down the tortie. But since that never happens, it means that Festivus is actually year-round! Isn't that great?
Here is a Festivus graphic for you to take:
Oh, and here's a Christmas graphic from the pipsqueak:
* * *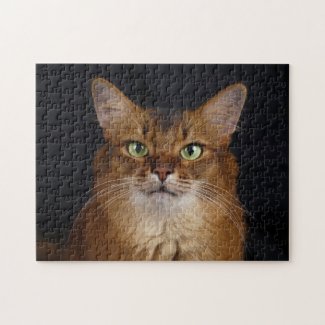 Somali Cat Photo Portrait Jigsaw Puzzle
See all of Summer's merch at her
her Zazzle Designercat Shop