The great thing about social media is it is an easy way for humans to keep in touch with their friends, even when they live in different cities. In fact, the majority of my human's good friends don't even live in our city. They are spread all over the United States, with a few of them sprinkled in other parts of the world. But she knows what's going on in their lives, when they get a new kitty, or sadly, when they lose a kitty. And when humans want to help out a cat in need, this can be good information to know. This is how my human was able to come to a kitty's rescue. She will be telling the story somewhere else, so I won't go into a lot of detail, but I will tell you briefly what happened.
In December, one of my blogging cat buddies, Mr. Black, brought a fluffy black girl named Sadie to our attention in one of his posts. Her human had to leave town for a new job, and because of circumstances, could not take his beloved cat with him. He had made a desperate plea that wound up on Facebook. They were located in San Francisco, and my human knew several cat loving friends there. So she reposted the Facebook note and tagged them, knowing that at the very least, they would share the information about this kitty. But there was one friend in particular she tagged, who she knew had lost a cat recently. Muffin was a senior calico girl who had died some months before and my human was wondering if maybe her friend was ready for new kitty companion.
It turned out she was right. Her friend had even been planning to go to the Humane Society in search of kitties that weekend. But she went to see this kitty instead — and wound up adopting her! The photo above is Cassie (her new name) the first weekend in her new home. My human's friend adores her "pre-owned" kitty and her personality even reminds her a little of Muffin.
Usually, I'm the one who helps out kitties in need, but this time my human did it all by herself, and I am kind of proud of her! So humans, keep in touch with your friends and family — you never know when one of them may step up when a kitty needs help!
I am all for helping kitties, one cat at a time, but it's also important to help populations of cats too. I'm talking specifically about community cats — managed feral cat colonies. And right now, the Humane Society of the United States, in association with PetSmart Charities, is launching a series of community cat webinars that are running from January through September. These webinars will be held three times a month and focusing on different aspects of community cats, from the basics about TNR and taking care of the cats to hot topics, including challenging issues facing people who care for about cats. In fact, there is a webinar today at 3 PM Eastern Time — an overview of organizing a community-wide TNR program. To see a list of the upcoming webinars for the next couple of months, visit the Humane Society's "Supporting Community Cats Webinar Series" page.
* * *
---
---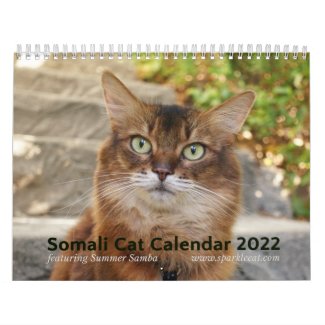 2022 Somali Cat Calendar Starring Summer Samba
See all of Summer's merch at her
her Zazzle Designercat Shop