It's almost time to vote for Cat Ruler of the World, and while my campaign may not be as flashy as some other kitties', I think you will agree it has been consistent, honest, and founded on a solid platform of improving the lives of cats everywhere (and especially improving the lives of the cats at Tabby's Place). Oh, but I could not resist spending some of my campaign budget on a few billboards.
What? You say you saw similar billboards that were advertising a movie? Pretty crafty, isn't it? I snuck in subliminal advertising for my campaign at no expense to me! I only bought and strategically placed a few billboards with my own photo on it, knowing that the rest would make you think of me! I think this is a good indication of my ability to use funds wisely. If I had already been Cat Ruler of the World, the worldwide recession would never have happened. We would have had a surplus instead, meaning extra nip and cat trees all around!
* * *
Check out my Valentine's Day Collection on Zazzle!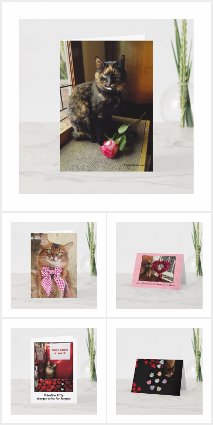 See all of Summer's merch at her
her Zazzle Designercat Shop