My human got invited to the Grand Opening of the brand new NKLA Pet Adoption Center, so I thought I would take the opportunity to tell you a little bit about it, and about NKLA (No Kill L.A.) in general. I think you'll be happy about the efforts the second biggest city in the U.S. is making to help homeless pets.
NKLA is a coalition of animal welfare organizations, city shelters, and humans who are passionate about helping animals. It is led by Best Friends Animal Society, and its goal is to make Los Angeles a no-kill city by 2017. There is still a ways to go, but since NKLA formed in 2012, shelter deaths have been decreasing. There were 4,200 fewer animals killed than the year prior. In addition, NKLA had a paw in 23,421 adoptions and 4,458 spay and neuter operations.
While the champagne might make you think this was a fancy affair (and it sort of was — the mayor's wife was in attendance), these bottles were donated by Moët & Chandon. My human did not have any, though, because she had a long drive home!
In spite of the champagne, the beautiful rose centerpieces (also donated), and the light brunch, it did not disguise the fact that there is still a long way to go to get to NKLA's goal.
As you can see, they were very big on encouraging humans to foster!
The facilities are bright and homey and state-of-the-art! And it was so new that the cat area wasn't even finished yet. But so that cat people could get their kitty fix, there were lots of kittens in cages and enclosures. My human played with these two for a while, and they were not pleased when she stopped to take some pictures.
I especially like this kitten, who would not even look at my human the moment she started taking pictures!
I think Sierra here really wanted to go home with someone! He spent his time looking extra cute.
That is, when he wasn't demanding attention! His is one of the profiles that is currently up on the NKLA site… unless somebody has already taken him home!
All the pets at the NKLA Pet Adoption Center were rescued from city shelters or the street. Before being put up for adoption, they are taken to Best Friends' facility in Mission Hills, where they are given any medical attention or therapy they might need, then brought to the adoption center to find homes. Some of them also spend time with foster humans. My human could tell that the kittens she met had great fosters because they were so friendly and sweet.
The NKLA Pet Adoption Center is open from noon to 8 PM daily, and is located at 1845 Pontius Ave., West Los Angeles, right off the 405 freeway. If you come to L.A., you need to see it!
* * *
---
---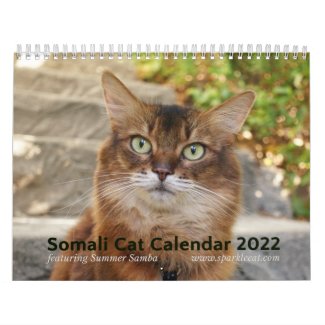 2022 Somali Cat Calendar Starring Summer Samba
See all of Summer's merch at her
her Zazzle Designercat Shop