It always makes me a little sad when I hear someone is allergic to cats. We are such fun creatures! We look nice, love to play with our humans, and we have less needs than dogs (you don't have to walk us, we groom ourselves, and we can be left alone for hours without getting lonely), so we can fit into busy households. But allergic humans can't take advantage of any of this. I thought I would share a few facts with you, to explain cat allergies better, and give you some suggestions on how to make life easier if you are allergic but still want to share your life with a kitty.
First, here are some things you need to know about cat allergies:
It's not really our fur you are allergic to. What is really making your eyes itchy and your nose stuffy is a protein that is found in our saliva and our sebaceous glands (the microscopic glands in our skin). Of course, we lick ourselves very often, and our fur is attached to our skin, so it seems like it's our fur that is causing the problem!
Getting a very short-haired cat, or a furless cat is not the answer. All cats have that protein in our saliva and skin glands, furless or not, that causes the allergy. Some cats naturally have less of this allergen than others, but it's not the presence of fur, or its length, that makes the difference. There is no way to tell which cats make less. In fact, attempts to breed non-allergenic cats have not had much success so far.
Cat allergen sticks to everything, and stays around for weeks. It really does! Not only do we leave it everywhere we go (and before you humans get grossed out, let me remind you that every living thing including you, leaves a little of itself behind), it floats through the air, and is particularly lightweight and sticky. And even when your home becomes cat free and you clean it frequently, it may take two months or more to get rid of the cat allergen.
Children who grow up with cats are less likely to be allergic. Now this is good news! A study reported in the August 28, 2002 issue of The Journal of the American Medical Association found that babies who grew up with two or more cats and dogs during their first year were 75% less likely to be sensitive to allergies than babies growing up in a pet-free home.
But what about you already allergic but cat-loving humans? Is there a way you can have your kitty fix without suffering? It depends on how severe your allergy is, and how much allergen your cat produces. Here are some tips that will help keep the allergen level down at your house.
Give your cat a place to sleep away from your bedroom. Keeping your bedroom as free as possible from cat allergens is possibly the best thing you can do for yourself. So scatter around a couple of nice, comfortable (and washable!) cat beds far away from your bedroom. If your cat has already been hanging out in the bedroom, wash all the bedding with a laundry detergent especially formulated for allergens (this is good for your clothing too). Then encase your mattress, box springs and pillows in impermeable covers, because there are most likely allergens inside them, and you want to lessen your exposure as much as possible.
If you have a forced-air heating and air conditioning system, it may be spreading allergens into your bedroom. Cover it with cheesecloth, or some other filtering-type fabric.
A high-efficiency HEPA air cleaner and a HEPA vacuum will help clear the air and surfaces of allergens. And remember to wear a dust mask when you vacuum.
Carpets are infamous for collecting allergens of all sorts, so stick to hardwood floors and rugs that you can wash on the hot water setting. If you already have carpet and don't want to get rid of it, steam clean it regularly.
Scratching posts and cat trees are necessary when you have cats. Unfortunately, most of them are carpeted and will harbor allergens like mad. So instead of using carpeted scratchers, try alternatives such as scratching posts made of bare wood (these will still have our allergens, of course, but they are easier to clean), and disposable, inexpensive corrugated cardboard scratchers.
There are allergen treatments you can apply to furniture and cat beds. There is even a solution called Allerpet that you can apply to us kitties! Give them a try.
Have a non-allergic member of the household brush your kitty and change the litterbox.
I hope some of these suggestions help you and your cat coexist happily, and un-sneezily!
* * *
---
---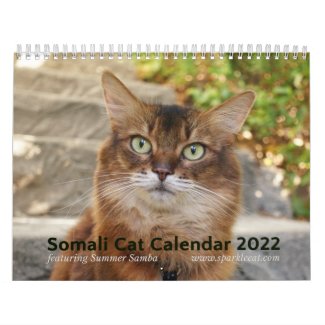 2022 Somali Cat Calendar Starring Summer Samba
See all of Summer's merch at her
her Zazzle Designercat Shop