As you know, I've been a longtime supporter of Tabby's Place in Ringoes, NJ. In the decade of its existence, this rescue and sanctuary has grown into a world-renowned, first class facility that takes in many special needs kitties — and gives them amazing treatment! And those kitties get adopted too: Dot with spina bifida and paraplegic kitties D'Art and Tashi are just three of the miracles who have found homes. But as this organization approached its tenth year anniversary, its members decided that they had to do even more to help kitties in need. Hence Tabby's Place has made the decision to expand its focus to include feral cats.
Tabby's Place is using a method called "Targeted-Trap-Neuter-Return (T2NR). This sophisticated approach:
Proactively locates free-roaming cat colonies
Spays, neuters and provides medical care for these cats
Works with the community in collaborative relationships
Relocates cats who cannot remain where they were trapped, and
Arranges ongoing care and monitoring for the colonies.
The humans from Tabby's Place have estimated that about 1,000 feral cats call the five surrounding townships their home. Their plan is to use a vacant wing of their building to expand their veterinary operations. This will help them attain their first goal of reaching all 1,000 cats in the next three years. To accomplish this, they are currently staging a $400,000 fundraising drive. This will include construction, medical equipment and operating expenses. So far, they are over halfway there, so there is still quite a ways to go!
Several big organizations have given generous donations to Tabby's Place's expanding mission, including the Paws and Claws Society, the Circle of Compassion for Animals, the ASPCA and the Humane Society of the United States. But individual donors are very important too, and the only way they will reach their goal is if enough of you step up to help!
It is smart, localized movements like the one Tabby's Place is working on that will make a real difference for feral cats. And with their impressive medical facilities and devoted volunteers, Tabby's Place is bound to set a standard and forge new ground for these wild and beautiful kitties. This is the time of year when a lot of humans make decisions about donating money, and it would be awesome if you gave some of your donations to Tabby's Place!
All photos courtesy of Tabby's Place.
* * *
---
---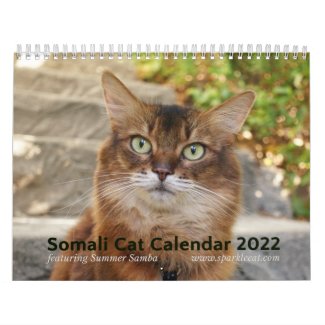 2022 Somali Cat Calendar Starring Summer Samba
See all of Summer's merch at her
her Zazzle Designercat Shop