Guess what my human did last night?
Want another hint?
And in case you haven't guessed yet:
That's right — my human went to see the Acro-Cats! She's been looking forward to it for weeks. They make it out our way every couple of years, and this is the third tour of theirs that my human has seen.
The star of the show, of course, is Tuna — and she knows it. Everyone cheered when she came out. In fact, the audience was pretty enthusiastic the whole time, and many people knew all the kitties! But Tuna got an extra special reception.
There were lots of very talented cats performing, and each had his or her own story — and specialty. Alley has a special talent for leaping. In fact, she is a Guiness World Record holder for cat with the longest recorded leap! She did a few amazing jumps at the show.
One of Annie's specialties was rolling a barrel. Both she and Alley… and every single one of the other Acro-Cats is a rescue cat! Some of them were foster fails — Samantha Martin, who is the head Acro-Cat human, fosters kittens while on the road and she has adopted out nearly 200 kitties! If I hadn't come along, my human may have contacted her about adopting a kitten because they are all hyper-socialized… and they learn tricks!
The Acro-Cats' shows are always unpredictable because the cats (and rats and chicken and groundhog) do their tricks on their own schedule… and sometimes they are not in the mood to do them at all. This particular show went really well, except for a couple of times. But even when the kitties don't perform as they are supposed to, it's just as fun watching the humans improvise around it! The audience also got to enjoy visits from a couple of Acro-Cats who jumped off the stage and wandered around for pets and attention. One of them, Jax, hung out on somebody's lap until she was needed back on stage!
The show always finishes up with the Rock Cats jamming.
Tuna is always on cowbell!
My human's favorite Acro-Cat, Sookie, plays the chimes.
Cluck Norris, the chicken, played percussion. She also bowled a game against Tuna earlier in the show… it was a tie.
The Acro-Cats rule! Like, literally rule their bus and the tour. They perform when they want and how they want and they get paid in lots of treats! The humans are just there to serve them. These kitties have it made, and it makes me want to run off with these circus cats! If the Acro-Cats come to your town, you really need to see them!
* * *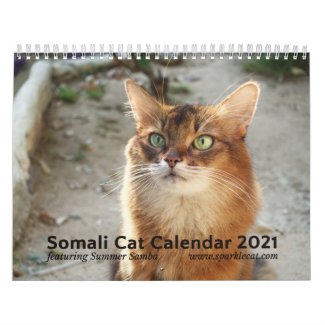 2021 Somali Cat Wall Calendar, Starring Summer
See all of Summer's merch at her
her Zazzle Designercat Shop