As you know, I'm a very people-oriented kitty. But that doesn't mean that I think everything humans do to us cats is okay (even well-meaning humans!). In fact, I think some of them are downright weird. And I'm not the only cat who thinks so. I've compiled a list of nine human behaviors that we cats just don't get. Don't worry, we still like you… we just like you in spite of them.
(Note: this is probably the snarkiest you will ever see me being, but I could not resist! Maybe it's the sunglasses)
Human Behaviors That Cats Think Are Weird
Squeal, "You're a kitty!!" when you see us. Um, yeah, we already noticed that we are kitties. We don't have to be told.
When you say, "meow" at us, thinking this constitutes a conversation. For one thing, the word "meow" and the sound of "meow" are two different things. For another thing, meowing isn't our language. It's a sound we make because humans are too dense to understand ear movement and body language like other cats do.
When you pat us on the head like we're dogs. Last time I looked, I was a kitty, not a dog. And if I had any doubt, somebody just told me that I was a kitty!! anyway.
(For cats other than me.) When you continue to rub our tummies after your hand has already been grabbed and bunny kicked repeatedly. What was that saying about the definition of insanity? Something about doing something over and over and expecting different results? Yeah, that.
Pick us up and hold us like we're babies. Even my mother, Bluesette, did not pick me up like that! Well, maybe it's actually better that humans don't pick us up by the scruff of our necks with their teeth.
Shut us out when you are using the bathroom. Why so secretive? We just want to make sure you are okay in there.
Take away the prey that we've worked so hard to catch. That would be kind of like stealing your paycheck after you worked so hard all week. Imagine how that would feel.
Steal what we've left in the litter box. Not that we mind. Actually, we're pretty glad you've scooped. But sometimes we wonder just what you are doing with our deposits.
Insist on finding all our hiding places. You're not supposed to find them — that is why they're called hiding places.
So tell me — do you know humans who do any of these weird things?
* * *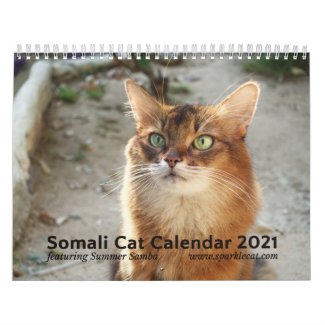 2021 Somali Cat Wall Calendar, Starring Summer
See all of Summer's merch at her
her Zazzle Designercat Shop