Everybody talks about Caturday, but how many of you know its origins? My human did a little bit of digging, and found out these facts. I think you will be surprised by some of them!
Caturday originated on the website 4Chan. My human was surprised by this because she thought 4Chan was some sort of political site. But it started off as a place to share images, including cat images on Saturdays (Caturday). Some people mistakenly believe Caturday started on MySpace, but that is wrong.

Caturday has been around since 2005, and may possibly predate lolcats! Lolcats (funny cat meme photos with bold text, joke sayings) originated sometime between 2005 and 2006. Caturday has been around since 2005. For the record, the Cheezburger site (which exploded the lolcat memes) began in 2007.

There is a caturday.com website. The only thing is there is really nothing there there except one post. It was originally registered on April 30, 2005. (Lolcats.com wasn't registered until June 14, 2006.) There is also a Caturday blog on Livejournal, which hasn't been updated in many years.

Blogging cats predate Caturday. Sparkle started this blog in early 2003. Max the Psychokitty began his blog the same year, and several other blogging cats weren't far behind. So this puts the earliest blogging cats at least a couple of years prior to Caturday.

If you are a cat, every day is Caturday. But you probably already knew that one.
Did you know any of these facts, or were you as surprised as my human? Let me know in the comments!
Other posts you'll enjoy:
* * *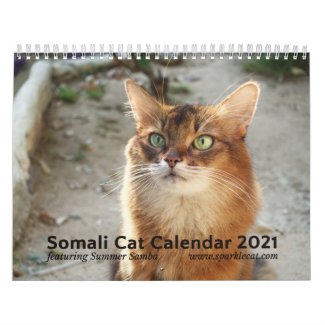 2021 Somali Cat Wall Calendar, Starring Summer
See all of Summer's merch at her
her Zazzle Designercat Shop