My human made me wear these cheap, non-prescription glasses because — get this — she thought they made me look like a dignified author! I do have some stories for you today, but I could have done without the supposedly writer-ly trappings.
Do any of you recall a while back that six-word stories were all the rage? They were based on a claim by author Ernest Hemingway (who shares a birthday with my human, as she always reminds me): that he could write a great story in just six words. And he proved it with this one — "For Sale: baby shoes, never used."
I looked around the internet and was shocked to find there was a decided lack of six word stories about cats! So to rectify this horrible oversight, I wrote a few of my own. There are a dozen, and I have numbered them.
1. Claw tap on cheek. Breakfast served.
2. She was semi feral, forever loyal.
3. Missed her human until euthanasia day.
4. Best cat and worst roommate ever.
5. Slipping out front door… not freedom!
6. One sun puddle, two fighting cats.
7. Bella purred bravely in cancer's face.
8. Squirrel head — kitty's most precious gift.
9. A good brushing — human requesting forgiveness.
10. Sweet kitten eyes that echoed Muffin's.
11. Bed felt empty with three cats.
12. Catnip, claw tip, let 'er rip!
All brilliant stories © 2013, Sparkle the Designer Cat!
Which ones were your favorites? And can you come up with a six-word story or two of your own?
* * *
---
---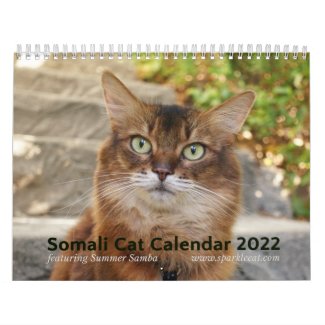 2022 Somali Cat Calendar Starring Summer Samba
See all of Summer's merch at her
her Zazzle Designercat Shop