(Note: Although I haven't done this particular list, I've done a couple like it in the past, so I thought I would let Binga have this amazing facts one.)
What's your favorite number? One, of course! Because that is my number, and nobody else's.
What is your dream job? Ruler of the Universe. Which is already my job.
What is something no one would ever guess about you? I'm actually very affectionate! At least until I bite you.
A trait you have that people would be shocked to know about you? I'm a talented fiber artist! See?

Do you think aliens are real? If they are, they had better be nice to me. Or else.
Can you use a hooded litter box? I use any litter box set in front of me. Consider yourself lucky!
Guilty pleasure? Guilt is a waste of time!
If the world ends (as you know it) do you want to survive? Sure, especially if I'm the only one left. It would make my job as Ruler of the Universe much easier!
Do you have any outstanding markings? I'm outstanding all over! But the orange chevron on my forehead and my shadowfoot do stand out.

Just don't touch the shadowfoot or you will regret it!

Favorite kitten game that you played? Claw the bed's box springs right under the humans' heads. I played that game for a couple of years!
Do you purr to yourself? Yes! Because I appreciate it the most!
Milk or tuna juice? That swill? I'd rather have heavy cream.
* * *
---
---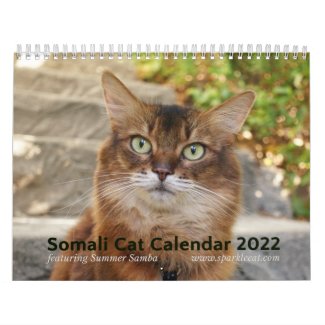 2022 Somali Cat Calendar Starring Summer Samba
See all of Summer's merch at her
her Zazzle Designercat Shop