I bet you never thought you'd see the words I wrote in the title of this post! But if you give it some thought, there is some truth to it. We kitties would not bother with humans if there weren't at least a few things about them that were good. And yes, in some ways, humans are better than cats — at least to live with. Yes, there are challenges when you share your life with a human, but there is also opportunity. And in that spirit, I've listed ten ways humans are better than cats.
Humans don't bite. At least not usually.
Not only do they know where the cat treats are, they won't try to steal them from you.
They are predictable, so it is easy to work with and around them.
They are easy to train. Every cat I know has their human trained to near perfection.
It is easy to hide things from them. Let's say you have a favorite, well-loved toy and you are worried your human might toss it out. You know all sorts of places to put it that your human will never dream of looking.
It is easy to hide yourself from them. No matter how many hiding places your human finds, it will always be at least one fewer than the hiding places you have in reserve.
Humans do that crazy thing called "a job" — something no kitty would lower himself to do — just so they can buy you cat stuff.
You can do some really insane things, and humans will shrug it off as "just something cats do." So go ahead and knock whatever you want off the table for no reason.
Humans will utterly and totally worship you — try and get that from another cat. Ha!
The final word: thumbs.
Did I miss any more ways humans are better than cats? Let me know in the comments.
* * *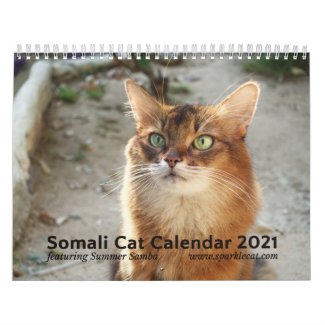 2021 Somali Cat Wall Calendar, Starring Summer
See all of Summer's merch at her
her Zazzle Designercat Shop