I am a very complex kitty. The cat you see modeling a dress is not necessarily the same one that curls up with a patent on a therapy visit. I'm different at home than when I'm at the pet store. To show you the different sides of me, I'll tell you about ten different times where I behave certain ways. You'll see I'm not always the cat you would expect!
At the Cat Writers Conference in Houston in 2018, my human brought me to the keynote session featuring renowned vet Dr. Marty Becker. I sat on the table while he was speaking, wondering why no one was looking at me. They were all looking at him! Finally I got annoyed and started acting out and getting restless, and my human had to take me back to our hotel room. This was not the first, or last time something like this has happened.
I've often told you how I settle in and snuggle with bedridden patients on my therapy cat visits. It's something I never do at home with my human. Ever. I only do it with patients. In fact, the few times I have curled up next to my human in bed or given her this type of attention at all, she started to get worried there was something wrong with her!
And in case you are wondering if I really understand what my purpose is with these patients when I am visiting them, here's a story for you. There was one older man, and when my human put me on the bed with him, he started weeping. A lot. Almost uncontrollably. I was snuggled next to him, making happy paws, and the harder he cried, the harder and more insistently I was making happy paws. I really did want to make him feel better.
When I see my human has a dress for me to wear, I come running up to her, meowing excitedly! I really do enjoy wearing clothes. I consider modeling and photo sessions with my human part of our bonding time.
When Binga was around and would photo bomb my modeling sessions, sometimes I would get mad! Sometimes I would get so mad I would walk off the set and wouldn't come back until my human made her leave.
That doesn't mean I didn't like Binga. Towards the end, when she was very sick, even though she didn't act like it most of the time, I would lick her a lot on the head. I knew, even if my human didn't quite realize how badly she was doing.
I really do walk on a leash like a dog sometimes! I will trot along with my human, and if I stop for any reason and my human gives my leash a little tug, I will start trotting again. Of course, there are also those times when I won't cooperate and she has to pick me up… but hey, I am a cat, not a dog!
I will almost literally do anything for treats. Once I figure out what it is my human wants me to do, I will do it if there are treats involved.
I am way too trusting. I will walk up to any dog, even though I don't know him. I let little kids mess with my ears and fur and I'll just sit there and take it. It is up to my human to manage my encounters with strange beings to make sure I am always safe.
I really do believe that strangers are friends I haven't met yet. That is not just my human putting words into my mouth on the blog. I love people and enjoy visiting with them. After all, how could anyone not enjoy being adored?
Do any of these surprise you?
* * *
---
---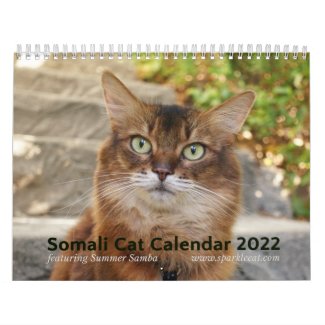 2022 Somali Cat Calendar Starring Summer Samba
See all of Summer's merch at her
her Zazzle Designercat Shop