I think it's really important for us kitties to teach humans about cat behavior, and to answer their most important kitty questions. But I know lots of humans have questions that aren't quite so pressing. So, with a little help from Google, I've picked a few of your craziest cat questions to answer!
Do cats fart?
Of course not — it's always the dog! Seriously, any living thing with a gastrointestinal tract probably does. If your cat's digestive upset can be traced to something she shouldn't have consumed, like milk (cats are lactose intolerant) and resolves quickly, then it's no big deal. But if it persists, and is accompanied by other symptoms, such as a lack of appetite or a messy litter box (and I'm not talking about the scattered litter part), a vet visit may be in order.

Incidentally, out of all these questions, this one was the most common.

Which cats are the nicest?
All cats are nice! If you are nice to them. Of course, nice is relative. I show how nice I am by rubbing my face on your hand or giving you a High Five. A feral cat is being nice when she eats the food you left out for her, while you are 50 yards away, hiding so she doesn't see you.
Will cats eat dog food?
Most cats I've ever met will gladly eat the dog's food. Especially because we're really not supposed to. Although both dogs and cats eat meat, most dog food doesn't contain a high enough percentage of animal protein, or cat-specific nutrients, like taurine, for kitties. But yeah, we'll eat it.
Will cats eat a dead body?
I certainly hope so! We are obligate carnivores, which means we are supposed to eat animal protein, also known as flesh. And usually the animal is dead. In fact, if a human eats any sort of meat, she also eats dead bodies. So I'm not sure what the point of this question is.
Do cats blink?
It is not a good idea to get into a staring contest with a kitty, because she will always win! Why is that? Because we don't need to lubricate our eyes by blinking anywhere near as often as humans do. Plus blinking is often a sign of self-consciousness in humans, and that might happen in a staring contest. Self-consciousness is not something a cat feels. And what about the famed "slow blink" — that sign of affection you cat gives you? That's really more of a squint than a blink.
How do cats see human faces?
This is going to sound so species-ist, but to us cats, you humans all look alike! There was actually a scientific study about this. The researchers were looking at pattern recognition in cats and dogs, and they discovered that cats only recognized their human's face from a stranger's about half the time. On the other hand, they were able to tell the difference between a familiar cat and a strange cat over 90% of the time! This doesn't really matter, though, because cats rely on other things, like sense of smell, to identify all the different things in their world, including their humans.
Can cats have autism?
Some people think that because cats have rather, um, unusual social skills, and can focus intently on things most humans don't understand, that it might mean they are autistic. No, they are just cats. Autism in humans is already misunderstood by many people, so please don't start trying to hang it on cats.
Why are cats so weird?
We're not weird, you're weird!
How did cats tame humans?
Oh, that could be a book! Basically we made them love us, and after that we could bend them to our will.
Will cats take over the world?
We already have!
Do you have anymore crazy cat questions for me?
* * *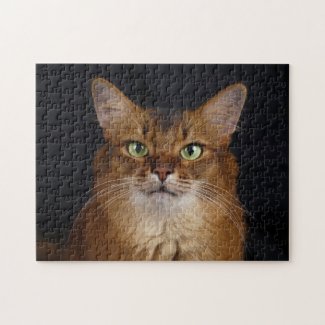 Somali Cat Photo Portrait Jigsaw Puzzle
See all of Summer's merch at her
her Zazzle Designercat Shop