You've seen my zombie toy many times before! You may wonder what exactly constitutes a zombie toy. I mean, we kitties kill lots of our toys, and they keep coming back to life. But only certain ones are zombie toys.
This one qualifies as a zombie toy because… well, um, look at it!
Even though it is already dead, it just asks to be killed! And I keep on doing it, and it never stays dead.
But… did you know that there is a history of zombie toys in this family? Sparkle had one!
This was Sparkle's zombie toy. This one became a zombie toy because she tore it limb from limb — and it still kept coming back!
I'm not sure what it looked like when it was a regular toy. Maybe there are photos somewhere. But it looks pretty zombie like here.
Like my own zombie toy, Sparkle tried killing hers over and over again, but it would never die! For all I know, it maybe still be lurking somewhere in this house. Wow, I didn't think of that before!
So… do any of you live with a zombie toy?
* * *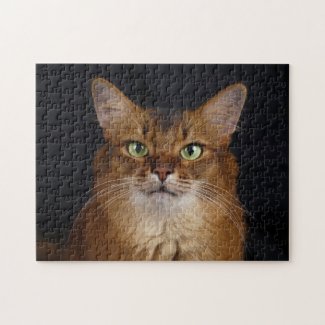 Somali Cat Photo Portrait Jigsaw Puzzle
See all of Summer's merch at her
her Zazzle Designercat Shop