After I tried on my new sweater and knit hat, I figured I would do some selfies. But someone rudely interrupted me before I even got started.
She probably wants to help me do this week's selfie — don't you agree?
Hm. This seems less like help, and more like "help." Binga needs to decide whether she's going to take part in this selfie or not.
I guess this means… no! Okay, so I'm going to take this week's selfie solo.
Frankly, I am kind of relieved!
* * *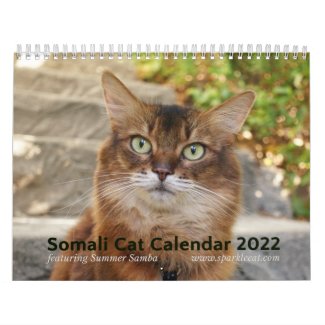 2022 Somali Cat Calendar Starring Summer Samba
See all of Summer's merch at her
her Zazzle Designercat Shop