I finally got around to wrapping my Christmas presents for Binga and Boodie! I had to wait until they were both napping downstairs at the same time. It was not easy finding boxes small enough for cat gifts.
How do you like my wrapping paper? One of these days, I am going to make my own on Zazzle! You know, wrapping Christmas presents is kind of hard for a kitty. I had to have my human help me with the scissors.
I thought I heard something downstairs! It's a good thing I finished wrapping these before she showed up.
I just want to say, my presents for Binga and Boodie are the first ones under our tree! From what I gather, my human's present to her boyfriend won't fit under here.
Here she is again! What part of "do not open until Christmas" does she not understand?
Now look at what happened! After all the work I went to, wrapping those presents, somekitty stole one of the bows, like it was some cat toy!
In fact, I went up to the tree, and both bows had been pulled off my presents! I wonder if these gifts are returnable.
* * *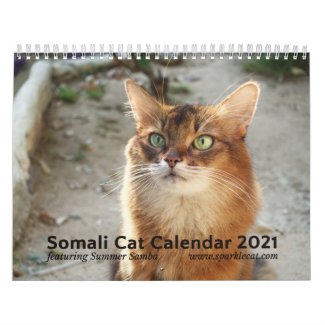 2021 Somali Cat Wall Calendar, Starring Summer
See all of Summer's merch at her
her Zazzle Designercat Shop