Yes, I had a second therapy cat visit scheduled this week! This time my human and I were the only team. This is a tough hospital when you're the only therapy pet because it's big and there are a lot of places to visit in three different buildings. But my human and I went to almost everywhere on the schedule! We lucked out because in the Pediatrics wing, there was only one little girl to visit. She had a leg in a cast and she was so delighted to see me. I even gave her a High Five.
But just because the Pediatrics wing was quiet, it doesn't mean there weren't kids to visit. One waiting room I go to every time I visit this hospital was filled with children! My human sat me on a kids' table and I was surrounded by maybe 7 of them all at once. I saw something that I never saw before, too — two of the little girls looked and dressed exactly alike! They were both scared to pet me, even though they were fascinated by me. One finally got up the nerve to touch me, and she was very excited about that. The other kids were braver, and I took photos with them and even gave a high five to one of them.
I can understand how other kitties might want to run away or get aggressive when they are surrounded by so many of these small, loud humans. It is stressful, but I was very calm during all of it. Even the wild little boy who kept running around, then coming back and putting his hands on my cheeks was okay. His father kept telling him to be gentle, but actually he was not really rough with me. I just sat there and let the kids enjoy me. My human made sure I was okay through all of it, and I think that's why I was as calm as I was. At the end, a family with a baby asked me to sit with them for a photo so I did. The mom thought she would have to pay for the photo, but my human explained that it was a courtesy provided by the hospital.
Even when we visited the restroom, I couldn't get away from the kids! They had tiles in there drawn by children. My human posed me next to this one with cat drawings.
So yeah, I really worked my tail off! I had to check to make sure it was still there.
* * *
---
---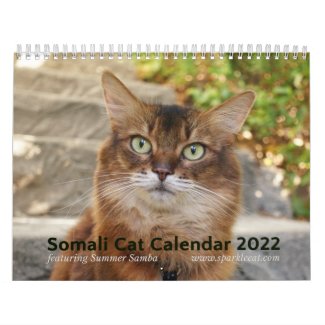 2022 Somali Cat Calendar Starring Summer Samba
See all of Summer's merch at her
her Zazzle Designercat Shop