I thought really hard about what I should be for Halloween. I wanted something that really expressed my inner self, something that other kitties would look at and say, "Of course!" So I decided to be… Wonderkitty!
The only problem is it is kind of hard to be Wonderkitty in the safety of your own home.
Even changing the camera angle doesn't help much in making me look heroic.
So my human tried helping me out by putting up a backdrop and turning on a fan! Except the fan wasn't very powerful.
I do think I have the pose down, though!
Or at least I did until I turned the other way.
Have a fun and safe Halloween! Stay away from open doors and loud human kittens!
* * *
---
---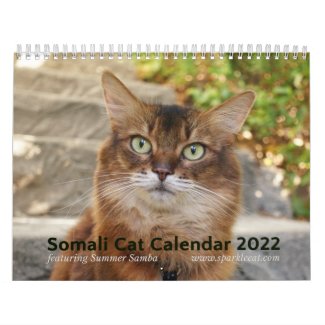 2022 Somali Cat Calendar Starring Summer Samba
See all of Summer's merch at her
her Zazzle Designercat Shop