For a photo session that lasted all of 17 minutes, last night's winter wardrobe modeling generated a whole lot of outtakes! So I thought I'd share some with you. Here I am, stepping all over my clothes so I can ask for a treat. Sometimes I like to be paid up front.
I'm not sure why my human had me wear my pearl necklace with the rhinestone heart along with my bunny slippers! It was not a successful mix and match, as you can tell by the look on my face.
Ah! Here is that pesky camera strap once again. I should save this to show next time somebody tries to tell my human what a great photographer she is.
What's with my expression in this photo? I look like I'm about to brave a trek through the frozen North in search of… who knows what? At least I have the wardrobe in case I ever have to do that.
You remember my raspberry beret, right? That was one of the accessory choices I was considering. For some reason, I was having a problem wearing it during this photo session, and my human gave up on it after, like, a minute. I know I could have gotten it right if she hadn't just gone to the next hat!
And I'm finishing up with a different kind of raspberry! I hope you enjoyed these outtakes today!
* * *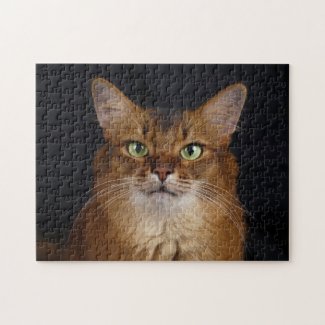 Somali Cat Photo Portrait Jigsaw Puzzle
See all of Summer's merch at her
her Zazzle Designercat Shop