I was planning on announcing the winners of the Fancy Feast Delights with Cheddar samplers solo, but I guess that's not gonna happen.
By the way, you wouldn't happen to know what happened to the fourth can of Fancy Feast, would you?
I was hoping that would get rid of her, but she's still behind me, isn't she? Well, anyway, I have 20 winners! And instead of just listing them all one by one, you can see who they are on the Rafflecopter widget below! Look carefully — I've sent emails to everybody, but as of the time I posted this blog, there are still three of you that I haven't heard back from! So if you see your name and you haven't heard from me, send me an email through my contact form!
Concatulations to everybody!
Now it's time to announce the winner of the Kitty Bungalow A CATbaret swag bag… if Binga will let me! She is still mad I told her she was disqualified from entering. I hope I can announce the winner without having to resort to smacky paws… and it is…
Concatulations, Truffle and Brulee! I had better box up this swag, and the bag, before somebody tries to steal something!
* * *
---
---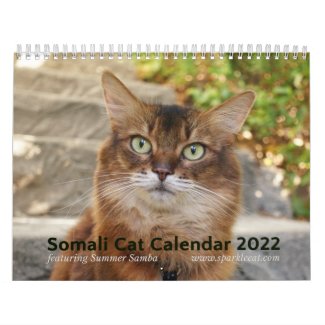 2022 Somali Cat Calendar Starring Summer Samba
See all of Summer's merch at her
her Zazzle Designercat Shop