One of my favorite pals in the cat blogging community, Sammy, has not been feeling well. He is 16 and then some, so a bunch of us thought it was time to give him tours of our towns. As most of you know, we live in Los Angeles, but my human and I hate touristy stuff so I thought I would just be casual and show him around my patio and let him whiff my catnip garden. But look what I found when I went outside!
There were a bunch of wood planks, right in front of my catnip garden!
There used to be stairs here, and some broken concrete, but it's all torn up. Apparently, the wooden stairs had rotted away, and my human is having somebody replace it. Unfortunately it was being done right when I wanted to have my catnip tour!
The whole patio is full of bags of concrete mix, and old and new wood.
Plus tools. Lots of tools.
The good news is that, while it might be difficult for a human to squeeze past all this stuff to get to the catnip garden, it's easy for kitties! So in spite of the clutter, we can still enjoy the nip and the view of my backyard.
I was so happy I was able to make it work out, in spite of everything!
Thanks to Madi and the late Easy for making all the tours possible!
* * *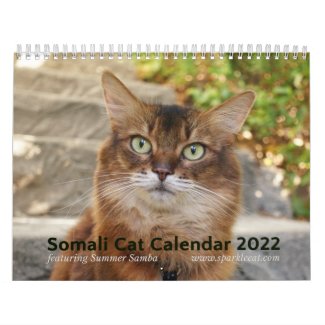 2022 Somali Cat Calendar Starring Summer Samba
See all of Summer's merch at her
her Zazzle Designercat Shop