This was my first visit to the children's hospital since August. I usually try to make it once a month, but I missed September. And since we are coming up on Halloween, I thought I would wear something different. Last year, I wore my nurse's outfit there. This time I picked out a dress I've never worn out anywhere. It's still a little big on me — you can see it on Binga in this post, plus the back that says "wicked cute" — but it fits well enough to go out in.
Lots of kids, and even some parents and staff, were really delighted to see me in my dress and on my leash. I sat on the couches in the lobby with several kids waiting for appointments. A couple of boys sat on the floor to pet me. That was fun, but it was also important for me to visit the exam rooms.
This children's hospital is part of a group that specializes in orthopedic conditions, and the rooms where casts were being removed or changed were pretty busy! So most of the children I saw were not suffering badly, and just enjoyed having me pop in to visit. I also saw some young patients who were checking out after their visits. One youngster was so happy to have me there, and he petted me lots. The mother looked on with a smile and told my human, "I'm usually allergic to cats, but Summer isn't bothering me at all." My human explained that part of my being a therapy cat involves me getting regular baths. It's actually cat dander, not the fur, that causes most allergic reactions. So a lot of that gets washed away when I have my baths. I may not enjoy getting bathed much, but it does serve a purpose!
Our last visit was rehab upstairs. A teenaged boy was finishing his appointment, and he and his mother liked me a lot! My human chatted with them for a while and it was fun for them because the mother was trying to learn more English, and my human, of course, is trying to learn more Spanish. We met lots of really nice people on this visit.
Incidentally, I found this story online recently about a donation of Barbie dolls with prosthetic legs. It made my human and I really happy.
* * *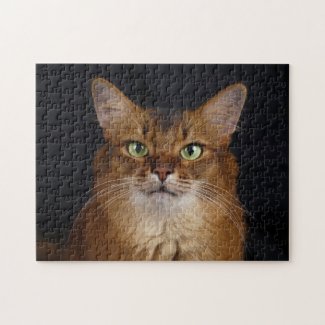 Somali Cat Photo Portrait Jigsaw Puzzle
See all of Summer's merch at her
her Zazzle Designercat Shop