I may still be young, but I work really hard to pose just right. When I do, I get richly rewarded! At least in treats.
But there is somekitty here who, even after many years, just can't seem to get the posing thing right.
Even when she is supposed to be in the shot, she has a hard time staying still! She looks like she is about to sneeze in this picture.
She also gets distracted all the time.
She is always missing her mark. She does not understand that this makes it hard for the photographer to consistently focus.
But even with all these faults, she still manages to get all the attention.
At least I get more treats.
* * *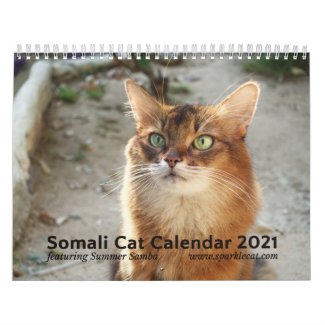 2021 Somali Cat Wall Calendar, Starring Summer
See all of Summer's merch at her
her Zazzle Designercat Shop