Some time back, the human who my nephew Louie lives with got a bunch of tiny masks for me. My human has been trying to figure out how best to use them. Eventually they will need elastic, but it's been hard for her to figure out just the right way to get them to fit on my head, and look good. In any case, she discovered that a couple of them would just sit on my face… if I sat still for a moment.
See what I mean? Although, I have to say, I don't feel very mysterious with it on.
Like I said, if I sat still for a moment, the mask stayed on. And it looks like this moment is about over.
Uh-oh, there it goes!
Why does my forehead still feel ticklish?
* * *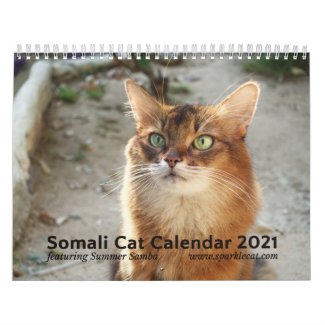 2021 Somali Cat Wall Calendar, Starring Summer
See all of Summer's merch at her
her Zazzle Designercat Shop