Here I am sitting in my cat tree, waiting for dinner after Saturday's mad dash. If I look a little vexed in this photo, it's not just because my human is taking photos of me instead of dishing it out the food — I am a little shocked that so many of you actually thought I would get fed last! That is so not the case. I always get fed first because I am a very slow eater. Also because I rule. Binga gets fed second, mainly because by then she is frantic. Then Boodie gets her food last because… well, she's pretty much last in line for everything. But never fear, if she finishes before Binga, she will steal some of her food too. Yes, Binga growls but Boodie ignores her — and she does not even get smacked!
Here are those of you who guessed correctly:
That is just five out of 44 commenters who got all three of us right. High paw to you!
* * *
---
---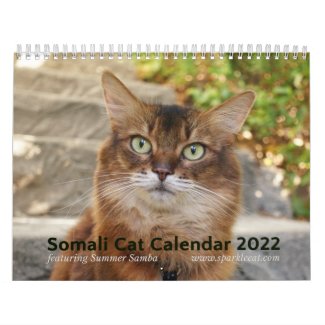 2022 Somali Cat Calendar Starring Summer Samba
See all of Summer's merch at her
her Zazzle Designercat Shop