When I showed you where I like to watch birds not too long ago, some of you wondered where my human was when she was photographing me. Today, I'm going to show you the spot!
She was on the stairs to the left of me, leaning over with the camera. And see that blue arrow? It's pointing to where I like to sit.
It's not the most dangerous spot she's ever taken pictures (that would have been the mosh pit at a Cro Mags show in the 1980s). But it's not the safest either. While I'm out here, I think I'll find a new bird watching spot.
I choose the little archway with the blue arrow.
Don't worry, my human cleared away the cobwebs and made sure there are no dangerous spiders up here. So it's perfectly safe. Right?
* * *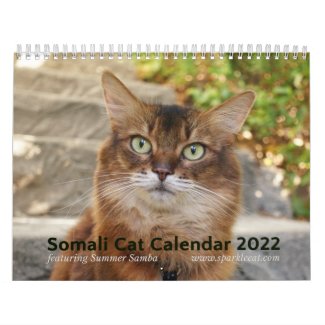 2022 Somali Cat Calendar Starring Summer Samba
See all of Summer's merch at her
her Zazzle Designercat Shop