I thought you'd like to see where I went for the rest of my outside time the other day. So let's go!
Instead of exploring further into the backyard. I wound up on the other side of the house.
I hung out on the bridge for a little while. So you can get your bearings (or maybe to confuse you a little more), you can see the turret in the background, where I frequently do photo sessions.
Here you can see how high up the bridge is! The window you can just barely see below me is the breakfast nook area of the kitchen, where my water fountain is.
The bridge steps are one of my favorite places to hang out. You can see the turret in the background again.
It's also a good place to watch birds.
Then I did something I rarely do — I flopped down and sunbathed in the dirt. The sun was just so nice I wanted to enjoy it. When my human picked me up to take me back in, she said I felt like a fluffy heated pillow.
I hope you enjoyed my outing! I sure did.
Other posts you'll enjoy:
* * *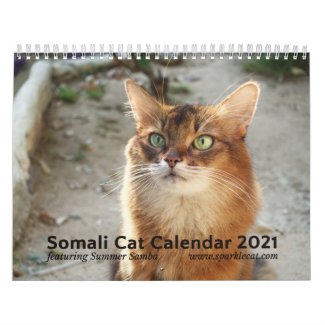 2021 Somali Cat Wall Calendar, Starring Summer
See all of Summer's merch at her
her Zazzle Designercat Shop