I have some sad news for you today. No, nobody died. Well, something died, but it wasn't a kitty or a human. My human and her boyfriend split up for good, and he left for Nashville on Sunday, where he has purchased a home.
No, they don't hate each other. They aren't even mad at each other. They just stopped being able to live together, and they were both unhappy and stressed. This has been going on for a long time, really, but it really only got unbearable during the last year. They have always been very different people, and maybe they never really were compatible. Their lives wound up taking them in such different directions that they never did anything together or shared anything fun. They weren't really partners anymore in any fashion.
Sometimes when this happens in a relationship, it can be fixed with counseling, but the gulf between my human and her boyfriend was too big, and there was no common ground left at all. Sometimes, when you love somebody, the kindest thing to do is to part ways. So that is what they did.
The one very good thing that came out of all of this is that my human's boyfriend decided to take Smokey with him. In case you don't recall, Smokey belonged to my human's dad, and she has been living here, in her own separate quarters, since he passed away in 2015. My human has been looking for a home for Smokey ever since, but it's been hard because she is not a young cat… and my human didn't want to just hand her over to anyone. Smokey actually adores my human's boyfriend, so it makes sense that she would go with him.
It was a very sad morning here yesterday. But my human knows that her now ex-boyfriend will have a much better life in Nashville. Maybe he will even achieve things beyond what he can currently imagine! And maybe, hopefully, there is someone else out there who is right for him, when he's ready. And my human believes the same thing for herself. So maybe this will be a happy ending after all.
* * *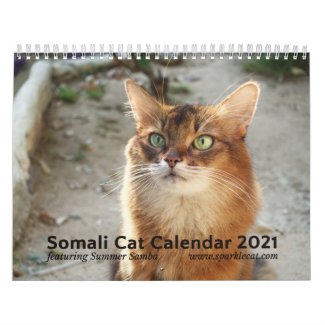 2021 Somali Cat Wall Calendar, Starring Summer
See all of Summer's merch at her
her Zazzle Designercat Shop