As some of you may have heard, the West Coast had a triple digit heat wave this past weekend. In case you are wondering, this is how I lie down when it's hot.
For some reason, my human thinks it is really funny when I am lying around like this. I don't see what the big deal is, it's comfortable.
Sometimes if I know she is staring at me, I flip my tail around, just a little bit, to let her know I'm aware of her.
I turned around just because I figured you wanted a shot of me not looking in the mirror.
There really isn't anything I can't do in this pose. I can even give myself a bath. See?
* * *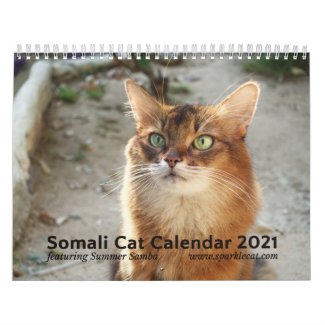 2021 Somali Cat Wall Calendar, Starring Summer
See all of Summer's merch at her
her Zazzle Designercat Shop